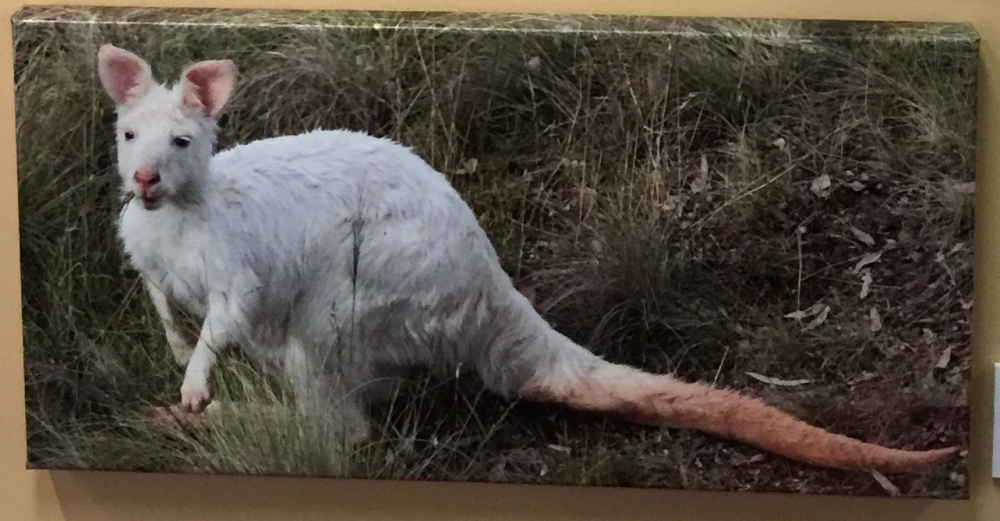 The following is a media release sent to BCCAN on Friday 5/8/16. The white wallaroos of Mt Panorama were a feature of our 2015 "200 Plants and Animals" exhibition. Pic is a mounted photograph by Tim Bergen as it appeared in the exhibition.
---
The Bathurst Kangaroo Project has confirmed one of Bathurst's rare albino wallaroos has died.
Bathurst Kangaroo Project scientist and kangaroo expert Ray Mjadwesch was recently called to the middle of Wahluu/Mount Panorama by a resident who had noticed the wallaroo racing across her home area near excavation works in the middle of the racetrack.
"When the resident went to investigate he found her dead on the ground. She had no signs of physical injury," Mr Mjadwesch said. "I arrived soon afterwards and delivered her to Stewart Street Veterinary Hospital where an autopsy was performed. Results from the autopsy just received confirm she had no physical injury or signs of disease.
"This leads us to surmise acute stress might have killed her, given her flight immediately prior to her death. Kangaroos are easily killed by stress," he said.
Bathurst Kangaroo Project coordinator Helen Bergen said this is a reminder that kangaroos are highly sensitive to human disturbance such as dogs, loud machinery, shooting and other disruptions to their mobs and environment.
"Kangaroos are peace-loving animal and the most effective management strategy to ensure kangaroo and community safety is to keep them calm," she said. "It is perhaps not well known Bathurst has become a destination for media and film-makers wanting footage of kangaroos, and not just of our special albino does who have captured local, national and international imagination in over 40 countries around the world.
"Only this week I took a call from another international online media site whose UK office wants to come to Bathurst to do a story," she added.
"We are very saddened at this special doe's death and know the Bathurst community has felt great attachment to the albino wallaroos. We need to do better managing protocols and risks on Wahluu/Mount Panorama to protect the remaining albino doe and the wellbeing of the other kangaroos in the precinct.
"Rescue data shows an average of 60-70 kangaroos, representing just under 10% of the Mount's whole kangaroo population, are removed every year from the Mount through injury and death. We know this is the tip of the iceberg, and continuing development around the precinct will see this increase," UTS scientist with the Bathurst Kangaroo Project Dr Daniel Ramp said.
"The displaced Appleton Orchard mob is another ~10% of the Mount's kangaroos that requires removal to a safe location before the rest of the orchard is uprooted. With kangaroos' low reproductive rates we can expect further decline," he added.
"The Bathurst Kangaroo Project is currently working closely with the Bathurst Harness Racing Club, local businessman Bruce Bolam and community, state and national NGOs and volunteers to relocate the displaced Appleton Orchard mob of kangaroos, and Bathurst Council is working to help make this happen," Ms Bergen said.
"We are encouraged that the local NPWS Area Manager has indicated in principle support for these efforts and we are looking forward to confirmation from NPWS that they will not insist on the ~130 displaced Appleton Orchard kangaroos being shot when a huge community effort has already organised a solution," Ms Bergen added.