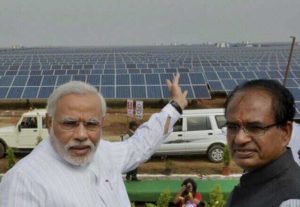 In its first budget announced recently (this week), India's Modi government
"announced funding for a series of "ultra mega" solar PV farms to be located in four Indian deserts, Thar in Rajasthan, Rann of Kutch in Gujarat, Lahul & Spiti in Himachal Pradesh and Ladakh in Jammu & Kashmir."
If India is able to build "ultra mega" solar farms within its very populated nation, what about Australia, ever so sparsely populated by comparison? Given the size of the Simpson desert (Australia's 4th largest desert btw), why can't we build 2 or 3 "Super Ultra Mega" Solar Farms?
Or maybe even a few Extra Super Ultra Mega Solar Farms.
Especially as India, a major consumer of Australian coal, is going to … (wait for it ….) … double the tax on coal, to help fund their Ultra Mega Solar Farms.
So if India is doubling its tax on coal, what kind of cock-a-maimy thinking is it to focus on digging up more coal precisely when our major customers are looking to lower imports of Australian coal?
Why are some within Australia talking about coal sequestration, or nuclear energy, rather than taking advantage of Australia being the "Saudi Arabia of renewable energy", with ample reserves for base-load power?
"It makes no sense whatsoever", says author and economist Jeremy Rifkin, in an incisive 4Corners documentary.