BY: Robert Robergs, PhD and Warwick Artis
You may be excused for thinking that Bathurst has plenty of tress.  Well, that just isn't true, and the future looks even more barren than the present.  Perhaps you hadn't heard that the major section of the future upgrade to the Great Western Highway through Kelso is currently planned without the presence of trees.  Is that a major problem?  The answer is a clear "YES", and after reading this brochure, we hope you agree
First of all, let's take a look at some Australian townships recognized for their urban tree landscapes.  The above photo is of the Avenue of Honour in Bacchus Marsh, Victoria.  This tree lined eastern approach to the town has been so successful in stimulating tourism, enriching the aesthetic value of the town, and protecting the road and local businesses from the summer sun that the town council has recently developed another tree-lined approach to the town from the north.  It seems that some towns actually go out of their way to increase urban tree coverage, and especially tree coverage on entrance and departure routes from the town.  What a great way to say "hello" and "see you next time" to local and distant travellers!
Another great tree town in Australia is Tamworth.  Below is a photo of their main street in the shopping district.  Yes, Tamworth has trees along streets where people shop!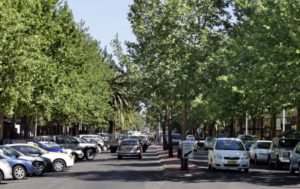 When you drive into Bathurst from the east, what does the urban landscape tell you about this town?  Given that the road is a mess, trees are inconsistent, and a concept of "no plan" is expressed more than any other story, what message about our townships are we expressing to our visitors.  What do the photos that follow tell you about Bathurst and our surrounding towns?
What does the absence of trees along William, Howick and George Streets within the city centre tell you about the values of residents of Bathurst?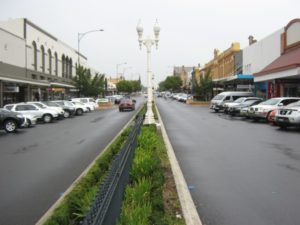 Often where there are trees, their isolation is visually disturbing.  There are 4 trees along the northern end of William Street, and another 4 along the central section of Howick Street.  George Street screams out an ugly cry of a barren urban landscape, and the contrast to the section that borders Machattie Park only serves to make the above photo more intolerable!
Then, there are the trees that are not doing well, like along the north-western end of Howick Street.
If asked the question, "What do you think of Bathurst's tree plan?" the only answer possible is another question, "What tree plan?"
The upgrade to the Great Western Highway is schedule to commence in 2014.  What is the foresight, vision, and integrity of our local government officials with this upgrade? 
Currently, their vision is to devalue the visual and environmental benefits of tree lined roads and streets.  How can Bathurst have such wonderfully tree lined residential neighbourhoods, only to see a concrete and bitumen wasteland in the heart of the town, and the soon to be "improved" entrance to the town through Kelso?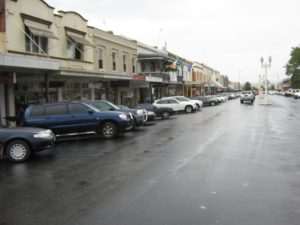 Of course, urban centres do not need to be devoid of trees.  Once again, let's summarize the benefits of urban trees.
Reflect incoming solar radiation.
Cool the local and regional area based solar reflection, shade and evaporative cooling from the tree leaves.
Minimize road damage caused by excessive heat and solar radiation.
Remove atmospheric CO2.
Insulate against noise pollution.
Attract birds and other wildlife.
Improve visual aesthetics.
Encourage tourism and local resident presence.
Shade cars, buildings and people, thereby lowering the energy cost of cooling in the summer.
Surely the foundation of this issue is obvious.  Trees are beneficial, and Bathurst needs them!
The Urban Value of Trees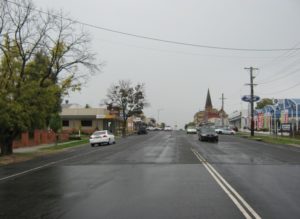 Have you thought about the financial benefit of urban trees?  Probably not, and you can be excused for this.  For example, most of us have been educated to value trees for their aesthetic value, their shade, their support of other wild life, and of course, for removing some of our excess atmospheric carbon dioxide.  Yet these, and other benefits, can all be expressed in financial terms.  Trees decrease solar radiation damage to urban streets, and when planned appropriately, can attract tourism and invigorate local shopping that adds to millions of dollars each year to the local economy.
The financial value of a well-planned tree network in urban spaces far outweighs their maintenance costs.  This fact has been proven time and again through studies and planned implementation throughout North American, Europe, and even in Australia as you will soon read about.
So, what do you think our elected local government officials are doing to care for Bathurst's present and future trees?
Written and developed by Robert Robergs, PhD and Warwick Artis for Bathurst Community Climate Action Network (BCCAN)
www.bccan.org.au ; Phone: 02 6331 8917